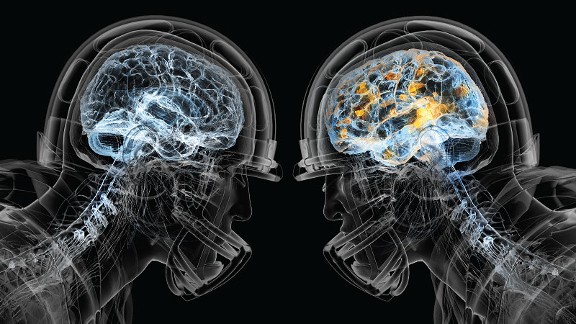 Concussions have emerged as a major public health problem. The CDC estimates that over one-and-a-half million American suffer a concussion each year, many in contact sports such as football, hockey and soccer, but also as a result of military combat, domestic abuse, vehicle crashes, falls, and other accidents. Our ability to predict, prevent, diagnose, treat and prognose concussive injuries is severely limited by the lack of valid and objective medical tests to detect and evaluate concussions. Health care providers primarily use simple tests of cognitive performance to diagnose concussions today, an imprecise system that relies heavily on the patient's own subjective reporting and fails to accurately portray the severity and persistence of brain injury and the future risk of individuals suffering traumatic brain injuries.
There is an urgent need to find and put into practice reliable and objective biological tests of concussive injuries. With that goal in mind, the Center for Law Science & Innovation at ASU's Sandra Day O'Connor College of Law recently convened on January 16 an interdisciplinary workshop of leading experts to address the scientific and legal aspects of concussion biomarkers. Law Professor Betsy Grey, who chaired the workshop and also chairs the Center's new program on Neuroscience and the Law, opened the workshop by noting that "brains don't fail in obvious ways, like bones do when they break or skin when it tears. Defining concussive brain injury is difficult." She said that by developing valid biomarkers of brain injury, scientists "hope to make the invisible visible." U.S. Federal District Court Judge Roslyn Silver noted that law also has an important role to play in preventing and ensuring adequate treatment of concussions, but it too requires scientifically reliable biomarkers of concussive injury that can provide a solid foundation for public policies and be admissible in court.
The morning session of the workshop focused on the scientific status of concussion biomarkers. The first presentation was a masterful overview by Dr. David Dodick of the Mayo Clinic on the various types of biomarkers under development for the diagnosis, prognosis and recovery from concussion. These include cerebral spinal fluid, blood, neuroimaging, clinical, electrophysiologic, and genetic biomarkers. Although there are many promising biomarkers under active development, he emphasized that these are a "work in progress," in most cases not yet ready for routine clinical use.  Science has demonstrated that a concussed brain is metabolically and structurally vulnerable with the recovery time extending beyond physiological symptoms and varying between and within individuals, and may not always correlate with observable symptoms, and therefore more precise biological markers of brain status are critical for effectively managing concussion risk.  As more informative biomarkers become clinically available in the next few years, it will be important to establish individual baselines and robust data sets to better understand the clinical significance of detected biomarkers.
The second science speaker was Dr. Kendall Van Keuren-Jensen of the Translational Genomics Institute (TGEN), who reported on an ongoing study to correlate concussive injury with RNA biomarkers. This ongoing study is a collaborative effort of TGEN, Barrow Neurological Institute, Ridell (helmet manufacturer),  ASU, and other partners. The study involves monitoring ASU football players, some of whom incur concussions, whose real-time head impact data is collected using Riddell's Sideline Response System (SRS). The researchers correlate the head impact data and concussion reports with RNA markers in the player's blood and urine. The initial results from the 2014 college football season are currently being analyzed, and the results may help identify RNA markers in players' bodily fluids that can track the pathology underlying brain injury and disease. Such biomarkers may provide a convenient and accessible marker to diagnose concussions in a more objective manner and to inform health care providers of the severity, progression, biology of disease, and response to treatment of concussions.
The final science presentation described an innovative pilot program where concussion biomarkers are being applied in the real world.  Dr. Kent Kiehl of the Mind Research Network  (MRN) described the "Brain Safe" pilot program he and his colleagues are running at the University of New Mexico (UNM). The program conducts a baseline analysis of UNM college athletes in a variety of sports such as football, basketball (male and female) and soccer (male and female) using noninvasive brain imaging techniques such as functional MRI, structural MRI, diffusion tensor imaging, and other assays. The results from these various tests are then integrated using a proprietary algorithm developed by the MRN to identify hidden data patterns across imaging methods and to provide for unique bio-signatures of concussion in each individual. The athletes are evaluated using the same techniques at the end of each season, and also immediately after they incur a concussion. The program is completing its first year, and one of the most interesting initial findings is the high rate of incidental findings in the baseline screens of incoming athletes. Dr. Kiehl and his team are exploring expanding the Brain Safe program to other colleges and high schools, and the program is setting a new standard of care for concussion detection and management.
The afternoon session focused on legal and policy aspects of concussion biomarkers, with three framing presentations and roundtable discussion. ASU law professor Gary Marchant first discussed biomarkers of susceptibility, which indicate an individual who may be at greater risk of concussive injury. A previous traumatic brain injury is the most established marker of an increased risk of a subsequent injury, but this is a crude measure that fails to capture individual variability without a more discriminatory molecular or imaging marker. Much attention has focused on the APOE4 genetic allele as a susceptibility risk factor for concussions, just as it is for its better known association with Alzheimer's. A number of relatively small studies have evaluated the increased concussion risk for APOE4 carriers, with inconsistent results. The evidence seems stronger that APOE4 carriers are at greater risk for more severe concussions than more frequent concussions. The identification of an athlete with the APOE4 variant may impose a greater duty on a school or team to protect that player, in much the same way the NCAA has been compelled to protect sickle cell carriers from stressful environmental conditions.
Professor Betsy Grey then addressed the legal implications of biomarkers of effect. As blood-based or neuroimaging markers are validated that can provide an objective measure of brain disruption, the "return to play" laws enacted by all 50 states will no doubt need to be updated to incorporate these useful new tools. Given the variability between individuals in many of the parameters measured using biomarkers, it will be critical to establish a baseline measurement for each individual that can be used to document adverse changes. An interesting discussion resulted about the incentives (or disincentives) of a school or team to establish baseline measurements for its athletes. In addition to affecting return to play decisions, biomarkers of concussion effect are likely to lead to increased use of the courts to obtain private remedies. For example, many individuals who have detectable biomarkers may seek to obtain tort compensation for those effects, similar to plaintiffs in toxic tort cases who seek compensation for latent risk claims, such as increased risk of disease, fear of disease, and medical monitoring. Biomarkers of effect are also likely to have important applications in proving or disproving causation.
Finally, attorney Larry Cohen addressed the admissibility of biomarker evidence. Cohen and his research team have conducted an exhaustive study of the admissibility of biomarker evidence, seeking to identify relevant factors that will be influential for the successful court use of concussion biomarkers. The Daubert factors such as published peer-reviewed studies, a known rate of error, and general acceptance will be critical factors for admissibility. Even with these criteria to apply, there is much variability and inconsistency between judicial opinions on admissibility of biomarkers, suggesting the need for a more predictable and consensus approach for the use of biomarker evidence in court cases.
The final segment of the workshop addressed follow-up activities, and there was strong support for a larger follow-up conference on concussion injuries and biomarkers. Plans were also discussed for preparing one or more manuscripts to be submitted for publication co-authored by workshop participants.