Fall 2015 Law, Science and Technology 3-L student Laila Ikram-Alkahlout travels to Jordan to interview Syrian refugees as part of her research paper assignment.
With over 60 students in this fall's highly competitive Law, Science and Technology class (co-taught by Professors Marchant and Stevens), Laila Ikram-Alkahlout no doubt wished to distinguish her paper assignment from all the others.  In doing so, she chose to experience and write about the Syrian refugee crisis and traveled to Jordan to do so.  Her focus was on assessing the impact of law and technology on the lives of refugees — reflecting on the current state of affairs and what is lacking from a regulation, policy and technology perspective.   It was both the opportunity as well as the risk of a lifetime.  We were all very happy to see Laila back safe & sound in class after her trip to the Middle East.  Another example of an ASU Sandra Day O'Connor College of Law student going above and beyond!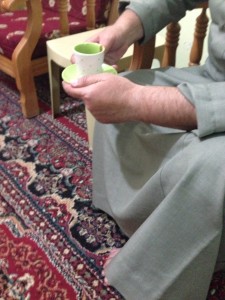 Sharing a cup of coffee – Jordan, October 2015.
The course, Law, Science and Technology examines legal mechanisms used in dealing with various issues raised by contemporary science and technology and further explores current legal responses to science and technology.