The Center is home to an incredible faculty and host to the top minds at the intersection of law, science, and technology. But we also attract some of the brightest student scholars around; you should meet them.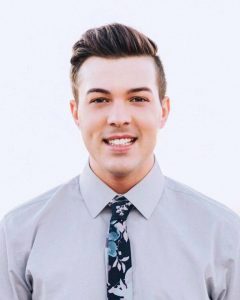 Drew Hensley, class of 2020
Hometown: Phoenix, Arizona
Education: BS in Neurobiology, Physiology, and Behavior from ASU's Barrett, the Honors College
During Drew's undergraduate studies, he worked as a medical scribe for orthopedic physicians. Drew also has an extensive background in music performance and composition, completing his undergraduate honors thesis in pop composition and music theory. Drew composed and recorded three a cappella albums with his undergraduate group, Priority Male.
Drew interests in law fall in the areas of Intellectual Property and Health Law. Drew is an O'Connor Merit Scholar and was awarded the Alan Matheson Award for the 2017-2018 school year. Drew is the founder and current director of ASU's law school-based a cappella group, Law Cappella. Additionally, as the 1L Representative for ASU's branch of Volunteer Legal Assistance for Artists, Drew's pro bono efforts are focused in the area of IP law.
Fun Facts:
Has been stung by scorpions 14 times (ouch!).
Has previously performed at cocktail hours for many alumni events at the law school.
Plays six instruments.