It's been a week since the first ever ShapingEDU Winter Games, and it was one to remember! Over the course of three days, participants joined panels, keynote speakers and breakout sessions centered around winter sports. The games are designed to surface the best in emerging approaches for shaping the future of smart campuses, cities and education — during and after the pandemic.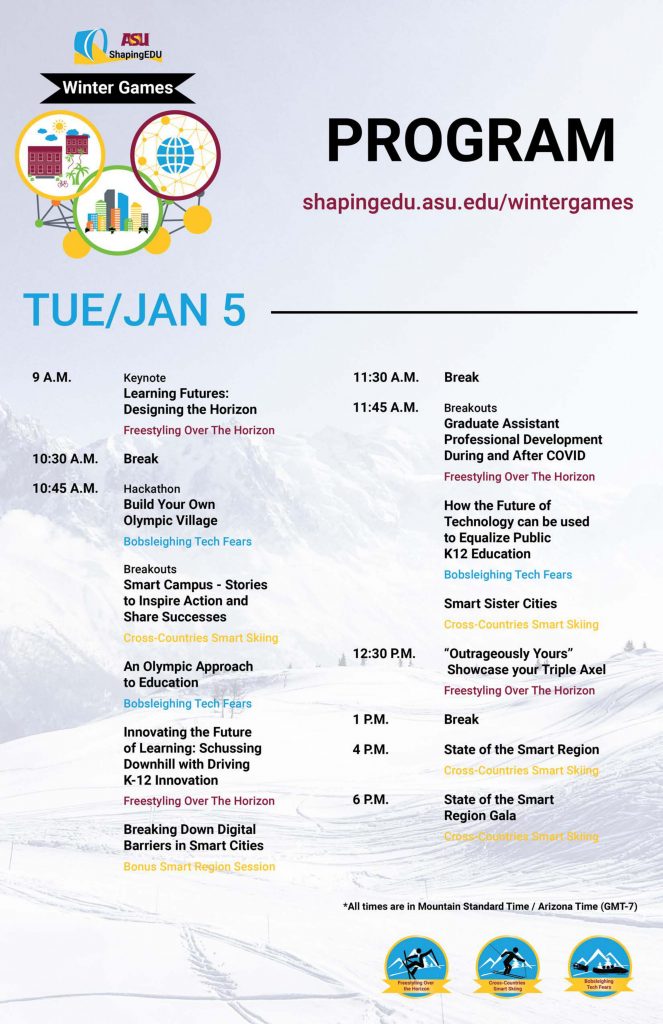 Kicking off the first day of the Winter Games, was the "Learning Futures: Designing the Horizon" Keynote was focused on the future of education post-pandemic. The speakers, all from the Mary Lou Fulton Teachers College, discussed the need to rethink teaching and learning environments during the pandemic.
Dr. Sean Leahy, director of Technology Initiatives, discussed the challenges of a global disruption when it comes to teaching. Associate Dean and Professor, Dr. Punya Mishra explained that currently, we live in a world that is volatile, uncertain, complex and ambiguous or "VUCA." Living in a volatile time raises the question on how to prepare educational systems to handle uncertainty. While Lead Technology Strategist and Head of IgnitED Labs, Jodie Donner presents on the "ecosystem of resilience" at the IgnitED Labs, a community-focused way to introduce emerging technologies. In the labs, visitors would come in and learn about new technology, but the spread of COVID-19 made it difficult to safely teach the community. 
Also featured on Day 1 was the "Build Your Own Village" hackathon where participants were able to design a village of connected Hubs rooms during the hackathon of digital spaces. This activity discussed what virtual meeting spaces can look like, and what opportunities for interactive spaces to collaborate with others can look like. 
The breakout session "Smart Campus- Stories to Inspire Action and Share Successes" featured Heath Price, associate CIO UK ; Chris Richardson, Deputy CIO ASU; and Barak Weinisman, VP and General Manager Cox 2m to discuss smart campuses. Moderated by John Rome, Deputy CIO ASU, the session highlights two smart campus leaders, Arizona State University and the University of Kentucky as well as Cox Business, a significant leader in the space to practice sustainability.
Keeping with the Winter Games Olympic theme, Kevin McMahon, the founder of Design Dojo and Art Heroes, discussed his takeaways from his experience as an Olympic track and field athlete in "An Olympic Approach to Education." McMahon explained how his experience competing can be translated to student learning and instruction.
The "Innovating the Future of Learning" discussion with Keith Krueger, CEO CoSN and Kim Flintoff, Technology Innovation Design Entrepreneurship Sustainability coordinator, explored what innovation looks like during remote/hybrid learning in a pandemic.
"Breaking Down Digital Barriers in Smart Cities" panel had leading industry experts discussed the collaborative efforts between education, community and business partners on intentional strategies and investments to create opportunities and reduce barriers. Making up the panel: Eric Ju Yoon Kim, founder & CEO of DOT Incorporation; Joseph Flynn, chief technology officer- Public Sector, Boomi; Rob Silverberg, CSIO Digital Commmunities, Dell and Bianca M. Lochner, Ph.D., Assistant Chief Information Officer, City of Phoenix.
Later in the day, speakers from the Southern Illinois University Carbondale discussed how the pandemic has changed the way they approach education. In "Graduate Assistant Professional Development During and After COVID"  Khara Lukancic , assistant lecturer for the Department of Cinema and Photography, and program coordinator at the Center for Teaching Excellence, SIU; Karla Berry, director of the Center for Teaching at SIU and Benjamin Bradley, Graduate Assistant, Center for Teaching at SIU. In addition to their faculty programs, the Center for Teaching Excellence strives to provide multiple professional development activities for graduate student instructors. The discussion explored the experience of graduate student instructors by sharing their professional development strategies and brainstorming alternate paths and opportunities. 
Keeping with the education theme, Zuzana Skvarkova, Innovation in Society Student, College of Global Futures, ASU discussed the future of technology and education. "How the Future of Technology Can Be Used to Equalize K-12 Education" explored the future advancements of technology that can help minimize the wide socioeconomic inequality gap that impacts the quality of education for young students. Integrating technologies into classroom learning and emphasizing its funding, future students will be able to gain a more equal education giving everyone a better chance to one day receive the same opportunities.
Phoenix and its 10 sister cities across the world are progressing in their development of smart city initiatives to enhance the quality, performance and interactivity of urban services as well as to optimize resources and reduce costs. Through commercial, educational, cultural and artistic exchange of programs and events, Phoenix Sister Cities creates global, long-term partnerships and business opportunities for the citizens of Phoenix. April Cavaletto, youth and education Coordinator at Phoenix Sister Cities and Cora Stevens, assistant to the vice president – intern at Phoenix Sister Cities, explain the sister city collaboration in "Smart Sister Cities"
One of the highlights of the day was the Smart Region Gala, a celebration of the one year anniversary of the Smart Region Consortium, officially called the Connective. The Connective is transforming Greater Phoenix into a top global market for innovation and technology by creating and enabling a cross-sector and cross-jurisdictional collaboration ecosystem which connects community leadership to the research institutes, advanced industries and high-tech entrepreneurs who have solutions to address real world problems affecting citizens and businesses in Greater Phoenix.
At the Gala, Elected Officials, Chief Information Officers, University Leaders, and Technology Industry Champions gathered to discuss, learn and showcase the latest advancements of Smart Campus, City and Region initiatives. Leading with opening remarks was Mayor John Giles from the City of Mesa, followed by remarks from John Wolfe, Senior Vice President & South West Region Manager, Cox Communications. Later in the evening Doug Sylvester, Dean of the Sandra Day O'Connor College of Law moderated a panel discussion with Maricopa County Supervisor Bill Gates, Arizona Commerce Authority President and CEO Sandra Watson, General John Wharton, State Representative Jeff Weninger and ASU Thunderbird School of Global Management Dean Sanjeev Khagram. 
Following the State of the Smart Region, singer/songwriter Biddy Healey performed a solo set featuring music from her recent album, Salt River Bed.
"The Future of Sports and Entertainment" keynote kicked off day 2 as Dr. Diana Bowman and Dominic Papa moderated a panel discussion based on the future of entertainment and technology. Leaders in technology and local sports comprised the panel: Robert Mathews, collaboration strategist, AVI Systems; Rick Schantz, head coach of the Phoenix Rising FC; Mark Feller, vice president of technology, Arizona Cardinals; Salvatore Gallatioto, president of Gallatioto Sports Partners; Stephen Rushe, senior director of Smart Communities, COX business. Panelists gave insight into the emerging relationship between sport and esport facilities and shared how local Arizona sports teams think about customer and spectator experience.
The hackathon for day 2: "Pedagogical Athletes" Faculty of the Future" explored the rapid ideation approach to envision the fast-paced faculty of the future. Dr. Minu Ipe, managing director and vice chair for the University of Design Institute, Advisor to the President, ASU; Dale Johnson and Cary Lopez discuss the potential methods to train current and future pedagogical Olympians.
"Learn at Your Own Risk" author Tom Haynes provided 9 digital age strategies for skiing down the mountain of chaos to a new normal. Divided into 9 groups and each tasked with developing practical applications, participants mapped their way out of the pandemic wilderness to find a new vampire of teaching and learning.
Panel discussion "Smart Cities- Highlighting Local Stories from Cities/Towns in Maricopa County" takes an in-depth look at the challenges local development faces. Moderated by Deputy CIO of ASU, Chris Richardson with officials from Mesa, Gilbert, Phoenix and Surprise, the panel discussed the new moves each city is making when it comes to the fight for digital equity, building cross-functional teams that address the diversity of community needs and much, much more.
Shifting to remote creates a new list of issues when it comes to productivity, "A New Horizon for Education in a Digital-First World: Freestyle with Slack!" gives some Slack tips and tricks to help adapt to a hybrid and digital experience designed to help productivity. The panel consisted of: Sheela Subramanian, senior director of Future Forum by Slack; Allie Nakonek, customer success manager, Slack; John C. Mitchell, Department of Computer Science at Stanford University and Maxwell Bigman, Graduate School of Education at Stanford University.
What is the digital divide and how does it affect us? ASU's Office of Applied Innovation explores what the divide means to use and how we can help lessen it in our community in "Riding the Chair Lift A Birds Eye View to Navigate the Digital Divide." Through this interactive session, participants can explore how the divide is shaped by political, social and cultural factors, as well as how to mindfully incorporate technology.
Smart regions need methods to bring the community together and ideas to life, and the need for urban innovation around the world increases. Moderated by Jason Whittet, digital innovation lead, ASU CIC, this panel, "The Smart City Lab as a Catalyst of Urban Innovation"  brings together leaders from labs across the world to share best practices for challenge selection, design thinking and innovation mechanisms and how to scale ideas from prototype to adoption.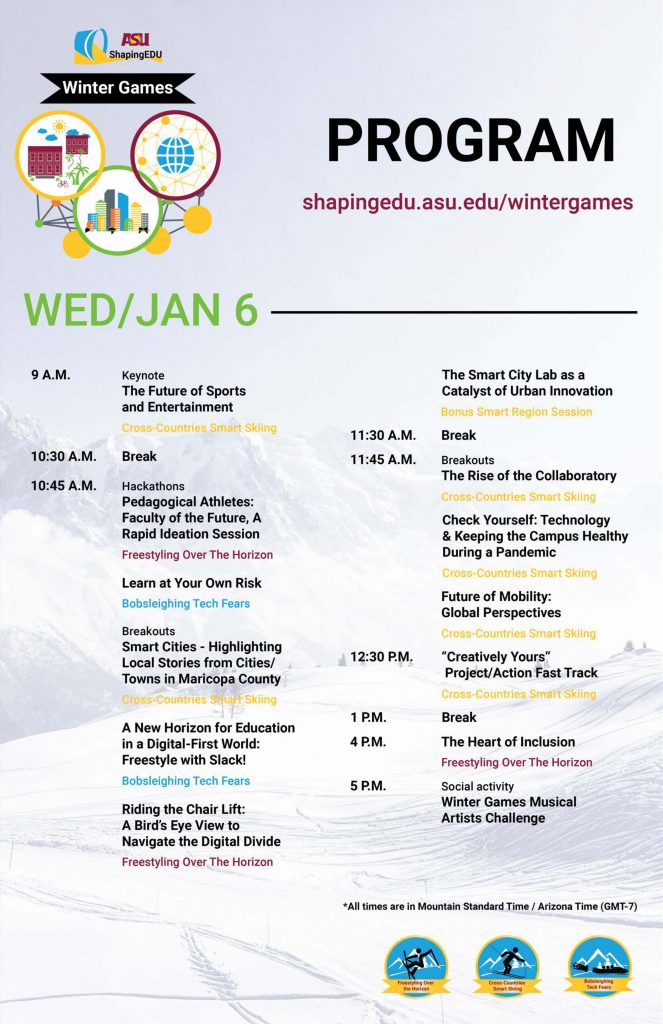 The Collaboratory, a strategic partnership that brings together leaders and futurists from Cox Business and the ASU community to create an Internet of Things (IoT) focused solutions to solve campus-wide challenges. In this session, partners from across the Collaboratory took a look back at the accomplishments and momentum built over the past year and shared how promising solutions will be made available to other campuses. 
The pandemic has exacerbated the need for institutions to have comprehensive strategies that promote the wellbeing of their communities, and technology is a significant enabler. "Check Yourself – Technology and Keeping the Campus Health During a Pandemic" discusses the daily health check — an integration in the ASU Mobile App that asks questions of Sun Devils before they step foot on campus to monitor symptoms and keep the community healthy. This wasn't just a smart technology initiative but a behavioral change for a community of more than 120,000. Join subject matter experts from the University Technology Office at ASU to learn firsthand how the health check came together and how it's being used to solve unique challenges presented by the pandemic.
Mobility is the lifeblood of our cities and essential to urban life, but the way people move is ready fro dramatic change. Technological innovations in the form of autonomy are on the horizon and the increasing urbanization with more people moving into cities and regions will provide the conditions for change. On the panel for "The Future of Mobility- Global Perspectives" is:  Deputy Mayor of Lisbon, Miguel Gaspar; Alex Cardona from State Farm Transportation Engagement Office and Miguel Eiras Antunes, Global Smart City, Smart Nation & Local Government Leader, Deloitte. 
Alycia Anderson discussed the "Heart of Inclusion" and how we can implement diversity and inclusion into campus, work and in life. The reality is success in this venture requires ongoing, collective collaboration and hard work. The process is unique to each person and situation. So by having an emotional understanding, we are likely to have greater success in our efforts. It's all about the past, present and future coming together and saying "Where do we go from here?" 
Wrapping up the day was the "Musical Artist Challenge" designed to provide opportunities for musicians and attendees to engage through video, audio performance and live chat. ASU has also convened a panel of judges who, inspired by votes and comments, will award musical medals at the close of the concert.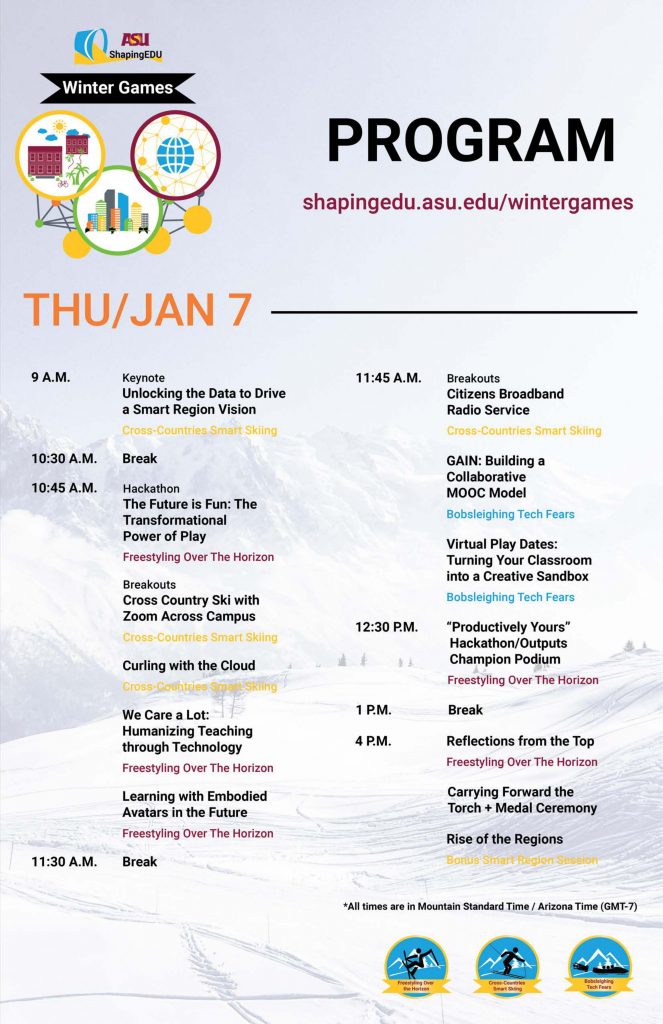 Starting the last day of the Winter Games was. "Unlocking the Data to Drive a Smart Region Vision" a discussion about the twists and turns along the path to build out a smart and sustainable region, and data utilization. Joining moderators Dr. Diana Bowman and Dominic Papa are panelists: Mayor Corey Woods, Tempe; Dean Elizabeth Wentz, Knowledge Exchange for Resilience, ASU; David Cuckow, Head of Digital Sector, BSI and Dr. Patricia Solis, Knowledge Exchange for Resilience, ASU.
Online learning can be fun! In this workshop, "The Future is Fun: The Transformational Power of Play." David Thomas, Ph.D., executive director for online programing at the University of Denver and Lisa Forbes, Ph.D., assistant clinical professor, Extended Studies, School of Education & Human Development, University of Colorado Denver, discuss the power of play and how it can transform learning. With the push to online, it is more important than ever to encourage the engagement and community-building aspects of play. 
In "Curling with the Cloud,"   outbreak of COVID-19 was the digital disruption and accelerant of the decade, forcing businesses to change how they operate and communicate practically overnight. Soo Nadarajah, regional leader for US West Higher Education and AMC, Amazon Web Services, discuss how companies across multiple industries are "Curling with the Cloud."
"We Care Alot" featuring Clinical Associate Professor at the Mary Lou Fulton Teachers College, Leigh Graves Wolf shares a curated list of possibilities, practices and promises for embedding analog care between cold digital 0s and 1s in educational spaces. The workshop also collectively engages the interactive brainstorm that models caring practices while simultaneously generating more possibilities and hope.
Director of Digital Innovation for the University Design Institute at Arizona State University, Dale P. Johnson discusses the development of a dynamic Global Adaptive Instructional Network (GAIN) to create the means to personalize the learning experience for every learner everywhere in "GAIN: Building a Collaborative MOOC Model."
Virtual Play Dates offer educators new and exciting ways to engage online students outside the LMS. Join Emily Wray, integrative portfolio specialist – Media Communications, Full Sail University and Kari Whaley, Ed.D.,  graduate studies course director, Full Sail University in exploring how to use co-facilitated virtual sessions to blend online classes in an effort to more deeply contextualize content, examine cross-curricular connections and build community beyond coursework. Participants attending "Virtual Play Dates – Turning Your Classroom Into a Creative Sandbox" can expect to gain an understanding of cross-departmental collaboration possibilities in the virtual space, examine several recent case studies collected during the COVID crisis, and engage in a virtual collaborative activity as a demonstration.
"Reflections from the Top" and "The Rise of Regions" wrapped up the Winter Games with a discussion on how to put the information learned into practice.