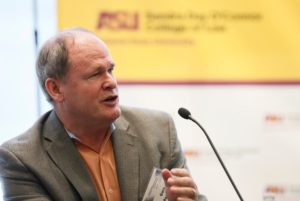 Faculty Director Gary Marchant will moderate the Emerging Areas in Psychology, Data and Statistical Sciences panel during the Emerging Areas of Science, Engineering and Medicine workshop. The panel moderated by Marchant will be on the second day of the workshop, on February 25, 2021. The Psychology panel consists of Xiao-Li Meng, Harvard University; Rebecca Doerge, Carnegie Mellon University; Daniel Kahneman, Princeton University and Goodwin Liu, California Supreme Court.
The workshop is organized by the National Academies of Sciences, Engineering, and Medicine's Committee on Emerging Areas of Science, Engineering, and Medicine for the Courts: Identifying Chapters for a Fourth Edition of The Reference Manual on Scientific Evidence in collaboration with the Federal Judicial Center.
The workshop planning committee is co-chaired by Judge Kathleen McDonald O'Malley (U.S. Court of Appeals for the Federal Circuit) and Dr. Thomas D. Albright (Salk Institute for Biological Sciences). The workshop will feature moderated panel discussions on:
Challenges in Evaluating Scientific Evidence in Court

Emerging Issues in the Climate and Environmental Sciences

Emerging Issues in Computer Science and Information Technology

Emerging Issues in the Biological Sciences

Emerging areas in Psychology, Data, and Statistical Sciences
Read more about the event, view the full workshop agenda, and register to attend here.