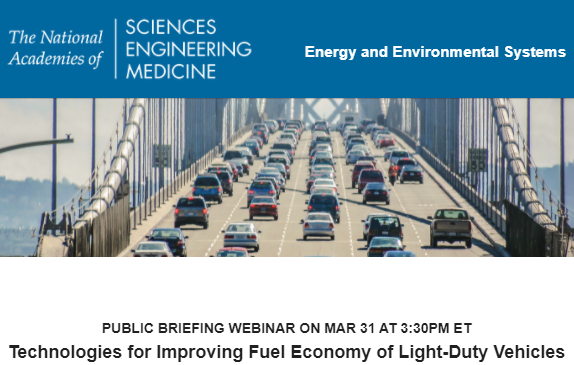 Faculty Director Gary Marchant will be leading the public briefing on Technologies for Improving Fuel Economy of Light-Duty Vehicles today on Wednesday, March 31, 2021. Marchant is the chair for the report being presented at the briefing session, and will discuss the key findings and recommendations from the report at 3:30-4:30pm ET.
The National Academies of Sciences, Engineering & Medicine is hosting the briefing, to discuss the technological innovations that can lead to the decrease in greenhouse gas emissions, and electric vehicle costs. During the 2025 and 2035 timeframe, it is expected to bring huge changes to the cars and trucks we drive. These developments will change how the vehicle industry designs, manufactures and markets their new cars and trucks, as well as how consumers buy and use their vehicles. With this change, federal, state and local governments will need to follow the technological growth and plan for the future's transportation infrastructure and regulation of these vehicles.
Congress and the Department of Transportation requested the National Academies evaluate how the internal combustion engine, hybrid, battery electric, fuel cell, non powertrain and automated vehicle technologies could contribute to the efficiency of vehicles during the 2025-2035 period of time. The National Academies also evaluated the impact these technologies could have on consumers, manufacturers, and vehicle regulations. In addition to these findings, the report provides cost and effectiveness estimates for future fuel efficiency technologies and discusses how the current Corporate Average Fuel Economy standards should be updated to reflect these new technical, economic and policy developments.
To attend the public briefing, register here: