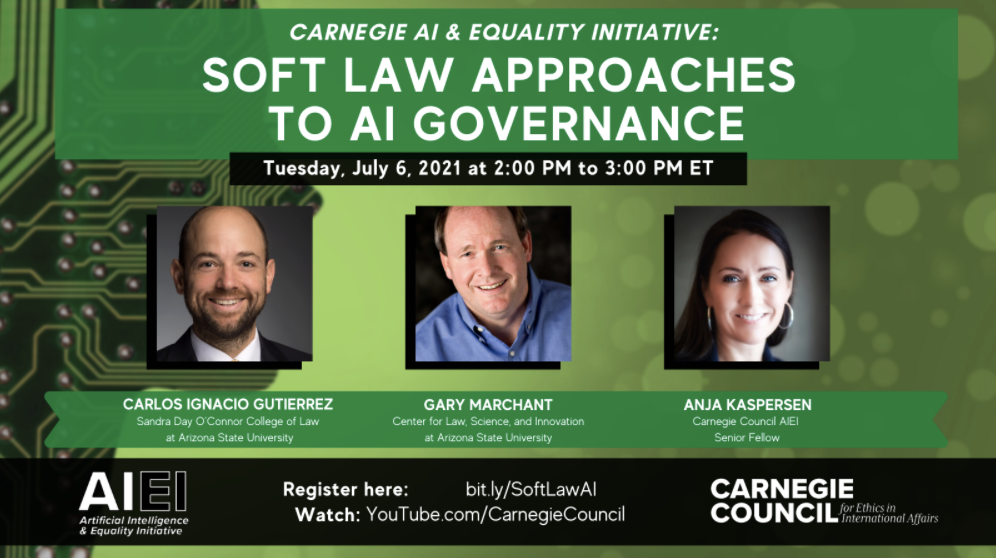 The Center for Law Science and Innovation's Faculty Director Gary Marchant is set to discuss soft law and artificial intelligence with senior fellow for the Carnegie Artificial Intelligence & Equality Initiative (AIEI) Anja Kaspersen, and  LSI AI fellow Carlos Ignacio Gutierrez. 
Marchant and Gutierrez will join Kapersen to discuss their work on characterizing soft law programs for the governance of artificial intelligence (AI). Soft law is defined as any program that sets substantive expectations, but is not directly enforceable by the government. They will also discuss the database they have spent the past year and a half creating, with 634 programs from 64 countries and regions and classified them with up to 107 variables and themes. 
The presentation highlights the strengths and opportunities of this governance tool. With the launch of this effort, their hope is that this information becomes a valuable resource for stakeholders looking to create, adopt, amend, or better understand the role of soft law programs in managing applications and methods of AI.